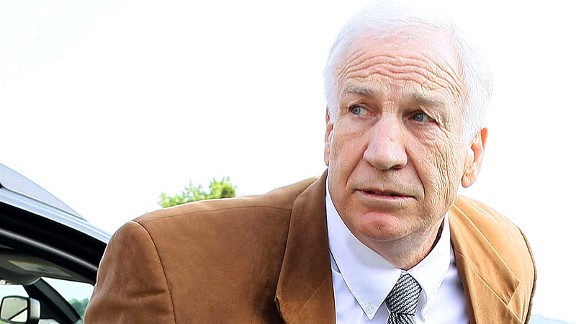 The courtroom was closed by the time the jury and attorneys assembled for the verdict, and no one will be allowed to leave until court is adjourned, the judge said in a court order. The verdict will be read count by count. Media are barred from transmitting any results of the verdict until adjournment, with the judge promising sanctions for any reporter or media organization violating his order.
Earlier tonight, Sandusky's lawyer said he would be shocked and "die of a heart attack" if the former Penn State assistant football coach were acquitted on all counts in his child sex abuse trial.
The candid remarks by Joe Amendola lasted about 15 minutes inside the courtroom and opened a wide window into Sandusky's state of mind as he and his wife, Dottie, waited for a verdict.
Jurors began deliberating the case Thursday and talked all day Friday.
Amendola said the Sanduskys were spending a lot of time praying. He described the atmosphere at their home as like a funeral.
The couple was "crushed" Thursday when lawyers for one of their sons, Matt Sandusky, said the 33-year-old had been prepared to testify on behalf of prosecutors, Amendola said. Matt Sandusky said his father abused him, his attorneys said.
Amendola said he wasn't surprised by another man, Travis Weaver, who claimed during an NBC interview Thursday that he was abused by Sandusky more than 100 times in the early 1990s, or by any others who might come forward.
"Money does a lot of bad things to people," he said.