The Rasmussen Reports daily Presidential Tracking Poll for Tuesday shows that 26% of the nation's voters Strongly Approve of the way that Barack Obama is performing his role as president. Thirty-six percent (36%) Strongly Disapprove, giving Obama a Presidential Approval Index rating of -10 (see trends).
Killing obl did not reduce the price of gas, or unemployment, or the national debt……
Overall, 49% of voters say they at least somewhat approve of the president's performance. Fifty percent (50%) disapprove.
Daily updates are based upon nightly telephone interviews and reported on a three-day rolling average basis. As a result, two-thirds of the interviews for today's update were conducted before news was released about the death of Osama bin Laden.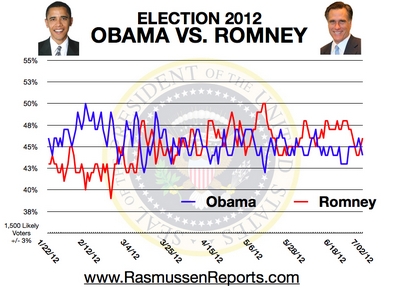 Thursday will be the first update based entirely upon interviews conducted after that event. Results from the single night of data collected on Monday shows a modest improvement in the president's Approval Index rating. However, there was no improvement in the president's overall approval rating. Caution should always be used when interpreting a single night sample from a tracking poll.
The president's job approval ratings have been remarkably stable over the past year-and-a-half when viewed on a month-by-month basis.
Republicans continue to hold a modest advantage on the Generic Congressional Ballot.
Read more at rasmussenreports.com