While New Jersey Governor Chris Christie consistently polls best against potential Democratic candidates, Republican voters have just as consistently shown a clear preference for more beatable candidates. What's changed is that Sen. Rand Paul, coming off of his high-profile filibuster and victory in the 2013 CPAC straw poll, is now nipping at frontrunner Marco Rubio's heels, and is also polling better than Rubio against Hillary:
Given the choices of several potential Republican candidates, Republican voters would like to see Marco Rubio run (21%) and Rand Paul and Chris Christie as a close second
and third (17% and 15%, respectively).

…American voters prefer Hillary Clinton to every potential Republican candidate who might run against her: Chris Christie (she beats him by 4 points), Rand Paul (by 6 points),
Marco Rubio (by 7 points) and Paul Ryan (by 7 points).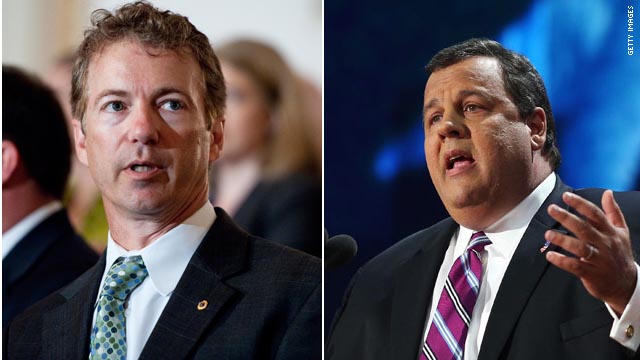 Christie's margin against Hillary remains unchanged since the last poll, but his favorability rating has slipped five points, from 44% to 39%, while his unfavorables ticked up six points, to 28%.
Although Sen. Paul raced past several others since the last poll, gaining seven points in two months, Christie's support among Republicans did creep up a couple of points. Among Democrats, Hillary Clinton increased her lead over the rest of the field, going from a 58%-19% lead over Vice President Joe Biden, to a 64%-18% margin. Her overall favorability also ticked up a point, to 50%, with 42% unfavorable.
via Mediaite
[fbcomments]