To the Parents and People of Australia, I would ask that you please accept our sincere apologies. Please look past our government, our sometime active civil rights leaders and organizations, our so-called spiritual conscience that has not come out with some sort of verbal condemnation of this horrible attack.
I am a American that grieves with you. There are no words or actions that can bring back your son and your citizen. I wish I was there to show you just how much I feel sorry that these monsters who were "bored" felt they had to be the bullies on the block, while actually showing just how cowardly they really were.
You see, we had an incident here in the United States where a young black man was shot during a fight which brought out all types of media coverage, race peddlers and ministers of "just us," but I am totally angry that these crooks of propaganda are not out in support of what happened to your son.
Even our President associated himself with this young black man saying that "this could have happened to him," but what is strange is that he's also half Caucasian and he's stands quiet on this issue as this could have been him too.
Your son, citizen was doing what he loved and cherished. He was living his dream and being the best at what he pushed himself to be. These young criminals are not the best of what America can produce, just what America is producing in these times right now and for that we are ashamed.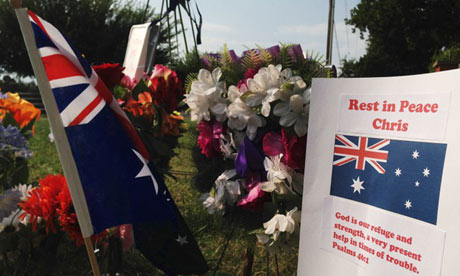 America is still a great nation and we intend to help it regain it's shining light but to this murder, it's a dark chapter in this nation's history that won't be forgotten.
To the family of Christopher Lane, I ask that God Bless You and Keep you. I pray that he wrap his protective arms around you during this time of grieving. I pray that God gives you peace and strength.
For the country of Australia, once again, please do not judge the rest of the United States for these three cowardly monsters. If we have anything to do with it, they are not America's future. Please don't shut the doors of collaboration and friendship. God will work his will and it will be done to to his glory!
Yours Truly,
Wayne Dupree, Newsninja2012