Let me remind you before reading this: The Government Accounting Office sent a memo to the Obama Adminstration informing him that Washington has in excess of 125 Billion dollars of wasteful spending alone with offices doing the same thing. This move by President ObeyMe is tragic for our men and women. Obama wants the nation to feel his lash for not supporting his end to the sequester.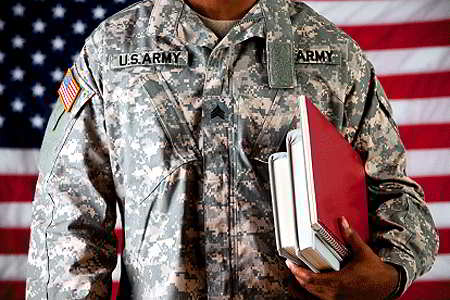 The tuition assistance was part of why so many volunteer for the military. Taking that away is unfair and un-called for. Our government can cut so many other things and not hurt anyone. The move will suspend financial assistance for soldiers who take classes in their off-duty time after work and on the weekends.
Obama should be giving up his vacations soon that have cost the taxpayer over 1.5 Billion dollars so far. Can you imagine we have such a profligate in the White House that he and his wife have spent over a $Billion Dollars in 4 years on 'vacations' at the taxpayer expense and nothing has been said about this extravagance in the MSM. Isn't it time to boycott all products that are advertised until the people will know what is going on, why isn't there National boycotts of advertised products until the propagandists of the MSM are off of the air? Do you really need something so bad that you would contribute to the downfall of your own country when you buy?
By the way, remember this – Obama is handing $250 million to the Muslim dictators of Egypt.
[fbcomments]