Well, we may not know where Hunter is right now, but we do know where he was back in 2014…
He was at a state dinner in France with his ex-wife, mom, and dad, and a man who has been arrested and accused of sodomizing a 15-year-old boy.
Who is this man?
His name is Terry Bean and he's a big-time Democrat donor with access to all the top political bigwigs in the commie party.
MORE NEWS: Investigative Reporter Adam Housely Just Dropped Some Sizzling "Hot News" on Durham's Probe
He's also an accused child rapist, who allegedly uses the gay dating app "Grindr" to pick up young boys and take them to seedy hotels where he performs sex acts on their bodies and then pays them big bucks to "disappear."
Sounds like your typical Democrat, right?
Here's the recently unearthed photo of Hunter, his wife, and the accused child rapist Terry Bean.
Photo of Hunter Biden and his ex-wife with big-time Dem donor Terry Bean, who's accused of two counts of sodomizing a 15-year-old boy he met on Grindr.

Bean took the young boy to a seedy hotel and performed "sexual acts" on him and then paid him $200K to "disappear" pic.twitter.com/8VQcotjnFN

— Amy (@MaybeAmes) July 26, 2020
The photo appears to be from a U.S. State Dinner held in 2014 for then-President of France, Francois Hollande. Hunter Biden was joined by his ex-wife Kathleen. The two split in 2017.

But it is Hunter's other table-mate that may raise some eyebrows.

The son of Presidential candidate Joe Biden is pictured here with Terry Bean, a lifelong Democrat and a former member of the Democratic National Committee.

According to Bean's sister's website, Bean was sat next to Biden throughout the dinner. She recalled: "Beautiful food and good dinner table company, Hunter and Kathleen Biden, made for a memorable evening for all."

State dinners are notoriously difficult events to get invitations to, and a spot at the Vice President's son's table is highly coveted and implies a close relationship.

Nine months after the picture was taken, Bean was arrested on multiple felony counts for alleged sexual abuse (sodomy) with a 15-year-old boy he had met on Grindr.

Bean – also listed as one of the founders of the LGBT advocacy group the 'Human Rights Campaign' – oversaw the organizations push to have gay marriage legalized in the United States.
Bean had access to all the most powerful people. Here's a pic with him and Obama.
Did Obama fly an alleged pedophile on Air Force One?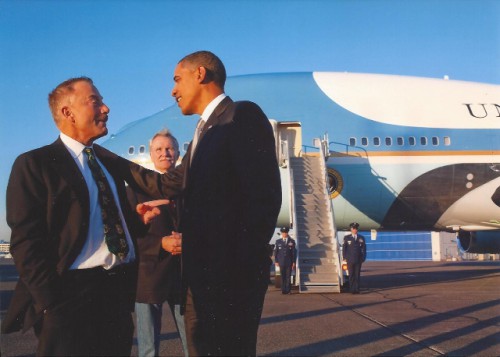 Sure, people will say, "well, there's photos of Trump with Epstein so that doesn't prove anything…"
Yes, of course, but you have to remember, when those pics of Trump and Epstein were taken, they were at random parties, n0t political state dinners, or on the runway with the President of the United States and Air Force One.
In this case with Bean, we're talking about a high-level Democrat donor and accused child rapist with direct access to Obama and the Bidens. You can't get much higher than that, can you?
That is what's concerning, not some random "party pic" from the '90s with Trump and a fellow party guest, that's not even remotely in the same league and it's insulting and, defensive, and paranoid to suggest it is.
Attn: Wayne Dupree is a free speech champion who works tirelessly to bring you news that the mainstream media ignores. But he needs your support in order to keep delivering quality, independent journalism. You can make a huge impact in the war against fake news by pledging as little as $5 per month. Please click here Patreon.com/WDShow to help Wayne battle the fake news media.